Our friendly, approachable and experienced team is committed to understanding your needs, meeting your expectations and alleviating any concerns you may have. We are proud of the attention that we are able to offer our patients. Taking time to ensure that we can offer all of our patients the best and most appropriate routes for ongoing dental care is a top priority for us.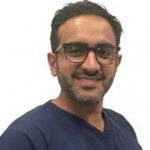 Dr Bilal Hussain
DDS MFDS RCS (Edin) PG Dip Endodontics
General Dentist with an interest in Endodontics and Oral Surgery
Doctor in Oral and Maxillofacial Surgery, Countess of Chester
DFT educational supervisor, NHS Health Education North West
Memberships:
Royal College of Surgeons Edinburgh
British Association of Oral Surgeons
British Society of Endodontics
Society for the Advancement of Anaesthesia In Dentistry
GDC No. 232109
Bilal qualified in 2009 at the University of the West Indies. After completing his accreditation with the General Dental Council in the UK he began to develop an excellent reputation in general dentistry.
Bilal is a current member of the Faculty of Dental Surgery at the Royal College of Surgeons (Edinburgh), the British Association of Oral Surgeons and the British Endodontic Society.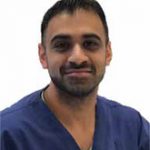 Dr. Salman Malik
BDS (hons), MSc (Implantology)
General and Implant Dentist
University of Manchester
DFT Educational Supervisor, NHS Health Education England
Clinical Advisor/Expert for the GDC
Accreditations & Memberships: ADI, ITI
GDC number: 114860
Salman has practised dentistry for nearly 10 years, and is now
focused mainly in the complex field of dental implantology. He is
also dedicated to training and teaching dental undergraduates
and newly qualified dentists.
Benjamin Russell
Dentist
GDC 250848
Lucy Hinsley
Dentist
GDC 176801
Nidia Dos Santos
Dentist
GDC 270920
Henry James
Dentist
GDC 271110
Naomi Hylands
Dental Therapist
GDC 247063
Sameera Mukadam
Dentist
GDC 264526
Sara Loughran
Dentist
GDC 277721
Maha Iqbal
Dentist
GDC 277954
Olivia Mills
Dentist
GDC 277776
Josephine Napper
Foundation Dentist
GDC 284698
Lauren Smyth
Foundation Dentist
GDC 284474
Chris Fell
Clinical Dental Technician
GDC 138996
Eleanor Heathman
Foundation Dentist
GDC 283741
Lauren Platt
Treatment Coordinator
GDC 257150
Popular Treatments
Cosmetic Dentistry
Dental Implants
Orthodontics
Endodontics
Teeth Whitening
Hygienist
Emergencies
If you are already registered with us and require emergency treatment please call the practice between 8am and 9am to book in with us.
Opening Hours
Saturday
By Appointment Only
Stoke-on-Trent Practice
Tel:
01782 410051
Address:
Penton House
Queen Anne Street
Stoke-on-Trent
ST4 2EQ